Wedding tents for sale in UAE
Our wedding tents are ideal for celebrating such an event. Wedding tent for sale can be used outdoors, surrounded by nature. Large tents will provide guests with a comfortable environment for your wedding.
We offer several options for wedding canopy, which are suitable for both small wedding events for 15-20 people, and large celebrations for hundreds of guests.
Modern wedding party tent in Dubai
Large wedding tents in the UAE allow you to organize various work areas: a banquet hall, a dance floor, a photo zone, a wardrobe.
A white wedding tent can be decorated in any style and in many ways.
Decorating tents with white fabric looks most impressive.
To decorate the hall, you can choose fresh flowers.
We offer a variety of wedding lighting options.
Luxury wedding tents for outdoor celebration
Wedding tents in Abu Dhabi are resistant to any weather conditions, which is important for the UAE, even during a desert storm, it will be comfortable inside the tent. Thanks to air conditioning systems, the tent can become year-round.
Wedding in a tent: advantages over cafés and restaurants:
park lawn, glades, sea sand, yacht deck and special pontoon can be installed on any level surface
aesthetic and attractive appearance
reasonable prices
area can be additionally expanded
Your holiday will be perfect and will definitely be remembered not only by you, but by the guests as well! Tents and awning structures can be the perfect solution for creating a romantic and elegant atmosphere at wedding events. Three popular tent options for weddings are the arched tent, the wooden tent, and the dome tent.
Regardless of the option chosen, tents and awning structures can be tailored to the individual needs and style of your wedding in Dubai to create an unforgettable and romantic atmosphere for you and your guests.
Together with Wedding Tents by LUXTENT, you will have beautiful pictures of your wedding. We offer you to make sure of this by admiring the photos of our happy newlyweds.
Popular Wedding Tent Models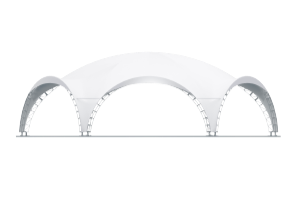 Elevate the ambiance of your wedding with an exquisite wedding tent. The arched tent is a perfect choice, as it creates a romantic and beautiful atmosphere that will leave a lasting impression on your guests. With its smooth and elegant arched shape, it exudes grace and sophistication, setting the stage for an unforgettable celebration.
To enhance the romantic ambiance, the wedding tent can be adorned with stunning flower arrangements and strategically placed LED lights, casting a soft and enchanting glow. This combination creates a captivating and mysterious atmosphere, adding an extra touch of magic to your special day.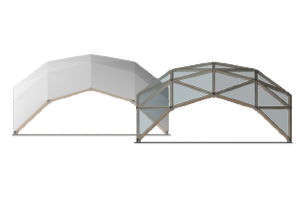 Discover the perfect wedding tents for sale in Dubai to create a cozy and intimate setting for your special day. Our selection of wooden tents offers a charming option for wedding events. With their wooden frames and versatile awning covers, these tents can be beautifully decorated with fabric draperies, flowers, and other decorative elements.
The warm and inviting ambiance created by a wooden tent is perfect for establishing a relaxed and comfortable atmosphere, ensuring that your wedding celebration is truly memorable for both you and your guests.
The original design for the wedding will be spherical tents made of high quality galvanized steel or wooden beams. For such designs, a transparent tent fabric is most often used, which effect is incredible. The panoramic view will not allow any guest to stay indifferent.
The dome tent is an innovative and unique choice for wedding events. It has a round shape and can be decorated with various elements such as flower arrangements, LED lights and decorative items. A dome tent creates a space with an amazing sense of spaciousness and allows for creative design choices.
Easily transform your chosen wedding tent into a beautifully glazed space. At our disposal, we have a range of glazing options to suit your preferences, including frameless glazing, double or single glazing, and the choice between sliding or swinging doors. Enhance the elegance and functionality of your wedding tent with our versatile glazing solutions.
Elevate your wedding tent with our comprehensive branding services. From printing your company name on various parts of the marquee to large-format banner printing, we ensure that your brand captures attention and creates a memorable impact. Additionally, our branding options can help create unique photo zones, further enhancing the ambiance and visual appeal of your event.
At LUXTENT, we provide comprehensive decoration services for wedding tents, tailored to your specific preferences and desires. Our offerings encompass a wide range of options, including elegant dome and wall decorations using designer fabrics. We can also adorn both the interior and exterior of the marquee with a delightful array of live and artificial plants, adding a touch of natural beauty to your wedding setting.
Feedback from our clients
We have taken parts in hundreds of events and celebrations. Take a look at our portfolio and review the range of tents to select a perfect, safe and reliable solution for your important event or your business.

Years of experience in cooperation with various restaurant business companies allow us to find the best solutions for the most unusual and exclusive orders. Therefore, we will find the best option for you or design an individual tent conforming to your requirements.

Our tents are multi-purpose; they are made to blend with the landscape, fit into any architectural forms and at the same time perform important functions.

We try to make our awnings not just functional, but also comfortable. Therefore, we offer unique solutions for creation of comfortable and convenient spaces for sports activities.

Our tents are characterized by durability and versatility as well as quality design. It makes them more than just functional premises and will help complement the site with a beautiful architectural solution.

We pay great attention to wishes and features of orders from our customers and, therefore, are glad to solve even the most complex tasks, providing any production enterprises with the necessary and functional awnings.