Turnkey restaurant
LUXTENT
Turnkey construction of restaurants and cafes
A successful restaurant business is due not only to delicious food and service, but also to the atmosphere in the restaurant. When opening a restaurant, it is worth paying attention to all the little things and details. Regardless of the location, the café should be attractive to visitors, and an equally important stage in the construction of the café is the development of the external and internal appearance of the premises.
Turnkey restaurant for sale in Dubai
Building a café on the basis of tent structures will create a place that is unique in design, in which guests will be conveniently placed. Despite the visual simplicity of tents, their use will allow you to open a full-fledged restaurant with the smallest financial investment. At the same time, the tents themselves are multifunctional and scalable, thanks to which, if necessary, you can enlarge the structure or divide it into several zones.
When it comes to setting up and expanding a restaurant business in Dubai, there are numerous factors to consider to ensure its success. At LUXTENT, we offer comprehensive turnkey solutions that encompass every aspect of the restaurant business. Our team of specialists has extensive experience in designing and constructing functional and aesthetically pleasing restaurant structures that cater to the unique needs and preferences of our clients.
Turnkey restaurant business for sale in UAE
Looking for a restaurant business for sale in Dubai? LUXTENT can assist you with all your restaurant establishment and expansion needs, providing top-notch solutions to make your venture a success.
During the construction process, our dedicated specialists pay meticulous attention to every detail. We work closely with our clients to understand their specific requirements and vision for their restaurant. This includes the arrangement of working areas, the selection of flooring materials, the incorporation of appropriate glazing options to maximize natural light, and the installation of efficient heating and ventilation systems to ensure a comfortable dining experience for both staff and customers.
In addition, we carefully plan the placement of lighting fixtures to create the desired ambiance and showcase the restaurant's unique atmosphere. Whether it's an intimate fine dining establishment or a vibrant eatery, our team can tailor the lighting design to suit the theme and concept of the restaurant.
By choosing LUXTENT for your turnkey restaurant project, you can expect a seamless and efficient process. Our team handles every aspect of the construction, from obtaining necessary permits and approvals to coordinating with suppliers and contractors. We are committed to delivering a fully functional and ready-to-operate restaurant business within the agreed timeframe, allowing you to focus on the culinary experience and customer satisfaction.
Experience the convenience and peace of mind that comes with a turnkey restaurant business in Dubai. Contact LUXTENT today and let us bring your restaurant vision to life.
The LUXTENT company offers turnkey café and restaurant design services in Dubai. We offer the execution of tent structures for cafés according to individual projects in the shortest time!
Popular structures for restaurant design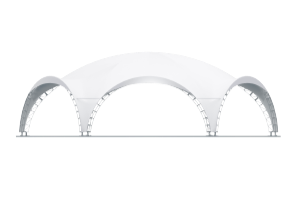 When it comes to designing restaurants, one of the main focal points is the implementation of ArcoTenso tents. These unique structures offer unparalleled versatility and are particularly well-suited for street restaurants. With their elegant and eye-catching arched design, ArcoTenso tents effortlessly blend with the surrounding environment, adding a touch of sophistication to any outdoor dining experience.
What sets ArcoTenso tents apart is their adaptability to various weather conditions. These tents can be equipped with glazing and heating elements, allowing for year-round utilization. Even during chilly winter months, patrons can comfortably enjoy their meals in the cozy and inviting ambiance created within the tent.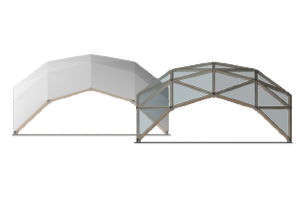 If you are considering opening a restaurant in Dubai and looking for a comprehensive solution, LUXTENT has got you covered. Our catalog features a range of options, including the EcoChalet model, which is a tent made on a wooden frame. This particular model is an ideal choice for restaurants situated in parks or natural settings.
The EcoChalet tent, designed in an eco-friendly style, seamlessly blends with its surroundings, creating a harmonious and inviting atmosphere. Its wooden frame exudes warmth and natural elegance, providing a unique and charming dining experience for your guests.
The urban landscape is beautifully enhanced by the addition of geodesic dome tents, which serve as striking centerpieces for any establishment. With GeoTenso, our innovative tent structure, your restaurant can feature a spacious banquet hall within the dome.
The dome structure offers numerous advantages, including its versatile design that allows for limitless decoration possibilities. You can create a truly immersive dining experience by equipping the dome with state-of-the-art sound and lighting equipment. These enhancements elevate the ambiance and ensure a memorable atmosphere for your guests.
Turnkey restaurant business
The awning structure of your choice can be easily glazed. We offer various options and types of glazing: frameless glazing, double or single glazing, sliding or swinging doors.
We offer branding services of awning structures. Printing on different parts of the marquee and large-format banner printing draw attention to the name of your company or create unique photo zones at your event.
LUXTENT offers decoration services, which according to your wishes may include the following: dome and wall decoration with designer fabrics, inside and outside decoration of a marquee with live and artificial plants.
We have taken parts in hundreds of events and celebrations. Take a look at our portfolio and review the range of tents to select a perfect, safe and reliable solution for your important event or your business.

Years of experience in cooperation with various restaurant business companies allow us to find the best solutions for the most unusual and exclusive orders. Therefore, we will find the best option for you or design an individual tent conforming to your requirements.

Our tents are multi-purpose; they are made to blend with the landscape, fit into any architectural forms and at the same time perform important functions.

We try to make our awnings not just functional, but also comfortable. Therefore, we offer unique solutions for creation of comfortable and convenient spaces for sports activities.

Our tents are characterized by durability and versatility as well as quality design. It makes them more than just functional premises and will help complement the site with a beautiful architectural solution.

We pay great attention to wishes and features of orders from our customers and, therefore, are glad to solve even the most complex tasks, providing any production enterprises with the necessary and functional awnings.