Event party tents
LUXTENT
Tents for party events for sale
Tents for private parties
Arched tents are the perfect solution for organizing private parties in the backyard of a cottage. They create a beautiful and romantic environment, add coziness and comfort, and also provide protection from the weather. Big and small tents for party will make your own original event in any place.
Tents for parties for sale in Dubai
Our tent for party can be any size: from a small structure for 10-15 people to large-scale dome structures for almost unlimited number of guests. Party tent in Dubai will allow the event to be held in a more organized manner by dividing special zones: banquet hall, dance floor or photo zone. All designs of tent for party can be unique: printed and made PVC tent in different colors. We offer a party tent with various lighting and sound options.
If necessary, the party tent can be equipped with an add restroom or dressing room for invited artists.
Event party tents for unforgettable outdoor celebrations
Our outdoor party tents for sale can be easily installed on various surfaces, including wooden platforms or directly on the ground.
Choose from a wide range of designs to find the perfect aesthetic appearance that suits your event's theme.
Expand the event space by adding additional outbuildings as needed, ensuring ample room for all your guests.
Our party tents are designed for easy assembly and disassembly, making them highly portable and allowing you to host your event at any desired location.
Make your party an unforgettable experience for all your guests with LUXTENT's event party tents!
You can host a unique outdoor party in Dubai or any other UAE city with LUXTENT party tents, ensuring a remarkable experience regardless of the weather conditions. These tents not only provide a sheltered space but also offer the perfect setting to capture beautiful photos of your memorable party.
Popular party tent models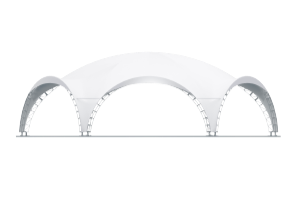 When it comes to festive celebrations, ArcoTenso tents are the ideal choice. These versatile party tents are suitable for small gatherings, ensuring a memorable experience. What's more, they can be effortlessly installed on various surfaces, allowing you to host your party without the need for site adjustments. ArcoTenso tents adapt to your needs!
Additionally, the arched design of these tents provides protection from adverse weather conditions, such as strong winds and excessive sunlight. You can enjoy your festivities comfortably inside the tent, as it prevents overheating during hot weather, ensuring a pleasant and enjoyable atmosphere for your guests.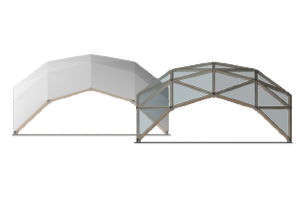 For customizable and versatile options, wooden marquees are the perfect choice for private events. They can be tailored to suit any need and preference, providing convenience and flexibility.
If you desire a party atmosphere that is relaxed and laid-back, without excessive extravagance, we recommend considering the EcoChalet model. This wooden tent is designed in an eco-style, featuring a frame made of laminated veneer lumber. The tent is covered with an awning fabric that can be selected to match the theme of your event, allowing you to create the desired ambiance.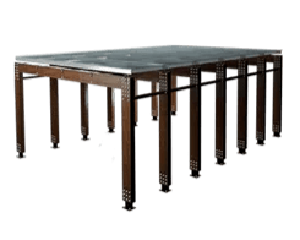 If you are planning to hold private holidays on an ongoing basis, we recommend that you pay attention to the EcoPergola model, which allows you to create a cozy, comfortable and romantic atmosphere that will please guests and create an unforgettable experience.
A wooden pergola is ideal if you are planning to furnish a place for house parties on a permanent basis. The structure can be docked to the building or stand as a separate awning on the territory.
Outdoor party tent for sale
Transforming your chosen party tent into a beautifully glazed space is effortless. At LUXTENT, we offer a wide range of glazing options to suit your preferences. Whether you prefer frameless glazing, double or single glazing, or sliding and swinging doors, we have you covered. Enhance the aesthetics and functionality of your party tent with our versatile glazing solutions, creating an inviting and elegant atmosphere for your memorable celebrations.
We offer branding services of awning structures. Printing on different parts of the marquee and large-format banner printing draw attention to the name of your company or create unique photo zones at your event.
Elevate your party tent with stunning decorations, adding a touch of individual style and ambiance to each event. From enchanting flowers and lush greenery to mesmerizing light decorations and more, our versatile range of decorative elements allows you to create a unique and personalized atmosphere inside your tent.
We have taken parts in hundreds of events and celebrations. Take a look at our portfolio and review the range of tents to select a perfect, safe and reliable solution for your important event or your business.

Years of experience in cooperation with various restaurant business companies allow us to find the best solutions for the most unusual and exclusive orders. Therefore, we will find the best option for you or design an individual tent conforming to your requirements.

Our tents are multi-purpose; they are made to blend with the landscape, fit into any architectural forms and at the same time perform important functions.

We try to make our awnings not just functional, but also comfortable. Therefore, we offer unique solutions for creation of comfortable and convenient spaces for sports activities.

Our tents are characterized by durability and versatility as well as quality design. It makes them more than just functional premises and will help complement the site with a beautiful architectural solution.

We pay great attention to wishes and features of orders from our customers and, therefore, are glad to solve even the most complex tasks, providing any production enterprises with the necessary and functional awnings.