Graduation party tent
LUXTENT
Tent for outdoor graduation party
Graduation party in tent structures is an ideal opportunity to end a difficult period after a successful graduation. Graduation outdoors in Dubai will give you incredible emotions, beautiful live photos and unforgettable atmosphere!
Our graduation tents are ready to receive up to 1500 guests at the same time in buffet style and are ideal for large-scale proms.
5 benefits of prom in a tent:
For big company. Not every permanent hall can be accommodated numerous graduates and guests, including teachers and parents.
Any format of party. Award ceremony, banquet, buffet or disco – just choose the right model for prom.
Provision of services. The design of the graduation tent allows you to organize catering areas or install a kitchen.
Comfortable conditions. The tent will solve all the technical aspects of the holiday: the dome will cover from wind or rain. Air conditioning and heating systems will solve problems with temperature fluctuations.
Special dance areas. A great advantage of graduation in nature is freedom of action and fantasy. You can invite a DJ and organize a disco, or you can order a fire show and arrange contests! You can celebrate this evening as loudly as you wish!
Graduation in a tent in nature is a creative and original decision to celebrate the end of the university. Graduation party in nature will become a symbol of freedom and new opportunities. Fresh air, beautiful views, extensive venues for a solemn banquet and dancing, the possibility of organizing an excellent photo zone will help your graduation become one of the brightest events in your life.
Using a LUXTENT tents for organization of a graduation ceremony will allow you to get beautiful photos that will be remembered for a lifetime. We invite you to verify this by admiring the photographs of our happy graduates.
Popular models of prom tents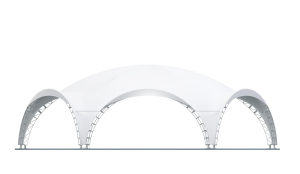 Arched tents are perfect for organizing outdoor graduations. The design feature allows the tent to be scaled depending on the number of guests, the format of the party and the planned recreation areas.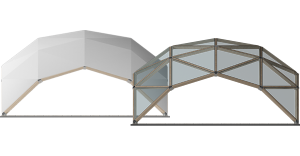 The EcoChalet design allows you to celebrate your graduation ceremony in an eco-style atmosphere. The tent is made of a wooden frame, the beams of which hold the structure in the shape of a dome. The total area of an individual tent can be up to 100 m2, but the structure itself can also be scaled by connecting several tents.
Grand is the basic model of LUXTENT awning tents. ArcoTenso Grand is suitable for all types of public events, it can be used as a separate tent or as a single whole structure with a maximum area of up to 1500 m2.
Tent for outdoor graduation ceremony
Add-ons for graduation party tent
The awning structure of your choice can be easily glazed. We offer various options and types of glazing: frameless glazing, double or single glazing, sliding or swinging doors.
We offer branding services of awning structures. Printing on different parts of the marquee and large-format banner printing draw attention to the name of your company or create unique photo zones at your event.
LUXTENT offers decoration services, which according to your wishes may include the following: dome and wall decoration with designer fabrics, inside and outside decoration of a marquee with live and artificial plants.
We have taken parts in hundreds of events and celebrations. Take a look at our portfolio and review the range of tents to select a perfect, safe and reliable solution for your important event or your business.

Years of experience in cooperation with various restaurant business companies allow us to find the best solutions for the most unusual and exclusive orders. Therefore, we will find the best option for you or design an individual tent conforming to your requirements.

Our tents are multi-purpose; they are made to blend with the landscape, fit into any architectural forms and at the same time perform important functions.

We try to make our awnings not just functional, but also comfortable. Therefore, we offer unique solutions for creation of comfortable and convenient spaces for sports activities.

Our tents are characterized by durability and versatility as well as quality design. It makes them more than just functional premises and will help complement the site with a beautiful architectural solution.

We pay great attention to wishes and features of orders from our customers and, therefore, are glad to solve even the most complex tasks, providing any production enterprises with the necessary and functional awnings.