Horseback riding hall
LUKSTENT
Equestrian awning structures
One area where large arch structures are used is the construction of riding arenas and riding arenas.
Halls for horse riding arenas
Horse riding is one of the most beautiful, spectacular and time-consuming sports. It is also one of the most expensive, because behind the rider's beautiful performance, there is a great responsibility for the horse's health, because he needs a sufficiently large and comfortable space for training, grooming and dressing the horse all year round.
Roofed awning structures, depending on the type, differ in surface, shape and functionality:
Riding school for show jumping and horse show
Riding school for walks and training
Riding school for other equestrian events
Equestrian solutions in Dubai
The LUXTENT company deals with the design and construction of riding arenas in Dubai for all applications.
Our arch structures allow you to create a complete dressage field for a horse show in the shortest possible time, for comfortable exercise while maintaining all the necessary standards with horses. After all, it is very important to create such conditions for their life and training so that the horses feel comfortable and safe.
The design and construction of indoor manages by LUXTENT will be a perfect complement to any equestrian base.
Design options for horse riding schools
The structure of the ArcoTenso Grand awning blind is highly functional thanks to its unique structure, which allows for a roof with an area of several hundred square meters without intermediate supports. This design would be an excellent option as a complete equestrian base.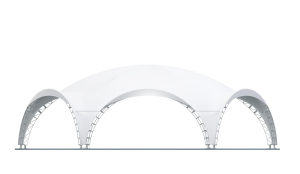 Construction The ArcoTenso Octagonal is a large circular tent that is optimal for use as an arena or a riding arena. The dome structure is erected without intermediate supports, which provides a lot of free space.
Order a project of an equestrian arena
Further options are available for riding hall:
The awning structure of your choice can be easily glazed. We offer various options and types of glazing: frameless glazing, double or single glazing, sliding or swinging doors.
We offer branding services of awning structures. Printing on different parts of the marquee and large-format banner printing draw attention to the name of your company or create unique photo zones at your event.
LUXTENT offers decoration services, which according to your wishes may include the following: dome and wall decoration with designer fabrics, inside and outside decoration of a marquee with live and artificial plants.
We have taken parts in hundreds of events and celebrations. Take a look at our portfolio and review the range of tents to select a perfect, safe and reliable solution for your important event or your business.

Years of experience in cooperation with various restaurant business companies allow us to find the best solutions for the most unusual and exclusive orders. Therefore, we will find the best option for you or design an individual tent conforming to your requirements.

Our tents are multi-purpose; they are made to blend with the landscape, fit into any architectural forms and at the same time perform important functions.

We try to make our awnings not just functional, but also comfortable. Therefore, we offer unique solutions for creation of comfortable and convenient spaces for sports activities.

Our tents are characterized by durability and versatility as well as quality design. It makes them more than just functional premises and will help complement the site with a beautiful architectural solution.

We pay great attention to wishes and features of orders from our customers and, therefore, are glad to solve even the most complex tasks, providing any production enterprises with the necessary and functional awnings.