Horseback riding hall
LUXTENT
Equestrian awning structures
Equestrian solutions in Dubai for horse riding enthusiasts
When it comes to horseback riding in Dubai, having proper riding arenas and facilities is essential. At LUXTENT, we specialize in designing and constructing top-quality riding arenas that cater to the needs of equestrian enthusiasts.
Our arch structures provide ideal solutions for creating spacious and comfortable spaces for horse training, grooming, and dressage throughout the year. We understand the importance of providing a safe and suitable environment for both riders and horses.
Our riding arenas come in different surface options, shapes, and functionalities, including riding schools for show jumping and horse shows, riding schools for leisurely rides and training, and riding schools for various equestrian events.
Experience the best horse riding in Dubai with LUXTENT
As a leading provider of equestrian solutions in Dubai, we take pride in delivering exceptional services tailored to your specific requirements. Our team specializes in the design and construction of riding arenas that meet the highest standards.
With our arch structures, we offer quick and efficient solutions to create complete dressage fields for horse shows, ensuring the utmost comfort and safety for both horses and riders. We understand the importance of creating optimal conditions for training and providing a welcoming environment for horses.
Choose LUXTENT for reliable equestrian solutions in Dubai and enjoy the best horse riding experience in the city. Contact us today to discuss your riding arena needs and let us create the perfect space for you and your horses.
Enhance your equestrian base with LUXTENT's expertise in designing and constructing indoor manages. Our tailored solutions are the perfect complement to any equestrian facility, offering a seamless blend of functionality and aesthetic appeal.
Design options for horse riding schools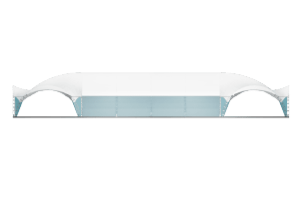 The ArcoTenso Grand awning blind features a distinctive structure that offers extensive roof coverage without the need for intermediate supports. This unique design makes it an excellent choice for creating a comprehensive equestrian base, providing a vast and unobstructed space for a wide range of activities. With its ample room and protection from the elements, the ArcoTenso Grand offers unparalleled versatility and customization options to cater to specific equestrian requirements. By enhancing functionality and convenience, this remarkable structure elevates the overall experience of equestrian facilities.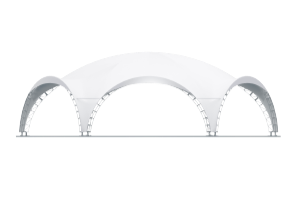 The ArcoTenso Octagonal is a spacious circular tent specially designed as an arena or riding arena for equestrian activities. Its unique dome structure allows for a large, unobstructed space without the need for intermediate supports. The circular shape facilitates smooth movement for horses and riders, ensuring optimal maneuverability.
This versatile tent is well-suited for various equestrian pursuits, including training sessions and competitions. The dome structure promotes excellent air circulation, providing adequate ventilation for the comfort of both horses and riders.
Order a project of an equestrian arena
Further options are available for riding hall:
The awning structure of your choice can be easily glazed. We offer various options and types of glazing: frameless glazing, double or single glazing, sliding or swinging doors.
We offer branding services of awning structures. Printing on different parts of the marquee and large-format banner printing draw attention to the name of your company or create unique photo zones at your event.
LUXTENT offers decoration services, which according to your wishes may include the following: dome and wall decoration with designer fabrics, inside and outside decoration of a marquee with live and artificial plants.
We have taken parts in hundreds of events and celebrations. Take a look at our portfolio and review the range of tents to select a perfect, safe and reliable solution for your important event or your business.

Years of experience in cooperation with various restaurant business companies allow us to find the best solutions for the most unusual and exclusive orders. Therefore, we will find the best option for you or design an individual tent conforming to your requirements.

Our tents are multi-purpose; they are made to blend with the landscape, fit into any architectural forms and at the same time perform important functions.

We try to make our awnings not just functional, but also comfortable. Therefore, we offer unique solutions for creation of comfortable and convenient spaces for sports activities.

Our tents are characterized by durability and versatility as well as quality design. It makes them more than just functional premises and will help complement the site with a beautiful architectural solution.

We pay great attention to wishes and features of orders from our customers and, therefore, are glad to solve even the most complex tasks, providing any production enterprises with the necessary and functional awnings.