Night and dance clubs in tents
The use of tent structures has become a popular trend in the entertainment industry, especially for nightclubs and dance floors. These lightweight and versatile structures have revolutionized the nightlife scene in Dubai, allowing for unique and unforgettable experiences. Tents are now commonly found on beachfront locations, providing a stunning setting for party-goers to enjoy the vibrant atmosphere by the sea, even after sunset.
Discover the advantages of our nightclub tents for sale in Dubai. Designed with cost-effectiveness in mind, our tent-based nightclubs offer the flexibility of easy dismantling during the winter months and hassle-free reinstallation at the beginning of summer. This allows you to optimize costs while ensuring a dynamic and vibrant venue for your guests to enjoy. Embrace the opportunities that tent structures provide and create an extraordinary nightclub experience in the heart of Dubai's nightlife scene.
Experience the uniqueness of our tent club in Dubai
When it comes to hosting a nightclub event, our tent venue offers a multitude of advantages, with its striking design being a key highlight:
The round shape of the tent creates an optimal dance floor right in the center, ensuring a captivating experience for club-goers;
The versatility of the tent structure allows for easy modifications, divisions, or combinations with other canopies, providing flexibility to expand the nightclub area as needed;
The distinctive appearance of the white tent itself stands out and captivates, especially when complemented by well-placed external and internal lighting, enhancing the overall ambiance.
Experience the unique atmosphere and exceptional possibilities of our tent club in Dubai, where every detail is carefully crafted to ensure an unforgettable night of entertainment.
Elevate your nightclub experience by hosting it in LUXTENT tents, attracting a new wave of guests and providing a truly unique space for relaxation and entertainment.
Models of structures for nightclubs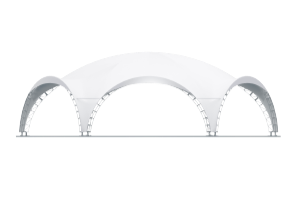 Experience the ultimate atmosphere in our arched tents specifically designed for nightclubs and dance floors. The uniqueness of the ArcoTenso model allows you to customize the tent size to suit your specific needs. Whether you require a more intimate space or a grand venue, our ArcoTenso tents offer a range of options to accommodate any crowd size. From smaller configurations of 100 square meters to larger setups of over 1000 square meters, we can create the perfect space to host your nightclub event. Unleash your creativity and provide an unforgettable experience for your guests with our versatile ArcoTenso tents.
Experience the epitome of luxury with our GeoTenso nightclub tent in Dubai. Designed with a transparent dome and captivating interior lighting, this tent will instantly captivate attention and create an unforgettable ambiance for your nightclub. The spacious interior provides ample room to equip the tent with state-of-the-art lighting and sound equipment, ensuring a truly immersive experience for your guests. Whether you're planning an intimate gathering or a large-scale event, our luxury nightclub tent offers the flexibility to accommodate any crowd size. With its versatile design and customizable layout, you can create distinct zones for dancing, lounging, and socializing. Elevate your nightclub experience and leave a lasting impression with our GeoTenso luxury nightclub tent in Dubai.
Order a night club project
Add-ons for nightclubs tent
The awning structure of your choice can be easily glazed. We offer various options and types of glazing: frameless glazing, double or single glazing, sliding or swinging doors.
We offer branding services of awning structures. Printing on different parts of the marquee and large-format banner printing draw attention to the name of your company or create unique photo zones at your event.
LUXTENT offers decoration services, which according to your wishes may include the following: dome and wall decoration with designer fabrics, inside and outside decoration of a marquee with live and artificial plants.
We have taken parts in hundreds of events and celebrations. Take a look at our portfolio and review the range of tents to select a perfect, safe and reliable solution for your important event or your business.

Years of experience in cooperation with various restaurant business companies allow us to find the best solutions for the most unusual and exclusive orders. Therefore, we will find the best option for you or design an individual tent conforming to your requirements.

Our tents are multi-purpose; they are made to blend with the landscape, fit into any architectural forms and at the same time perform important functions.

We try to make our awnings not just functional, but also comfortable. Therefore, we offer unique solutions for creation of comfortable and convenient spaces for sports activities.

Our tents are characterized by durability and versatility as well as quality design. It makes them more than just functional premises and will help complement the site with a beautiful architectural solution.

We pay great attention to wishes and features of orders from our customers and, therefore, are glad to solve even the most complex tasks, providing any production enterprises with the necessary and functional awnings.