Terrace awning for private houses
When constructing a country house in the vibrant city of Dubai, owners frequently envision an open terrace, providing a delightful and inviting space to sit back and relish the refreshing outdoor ambiance.
Terrace design: awnings for house and terraces
The perfect complement to this charming terrace will undoubtedly be an exquisitely crafted awning, skillfully designed to shield occupants from the scorching sun, while creating a cozy shaded retreat over the entire surface of the terrace. Not only that, but these awnings also offer much-needed protection against unexpected rain showers, ensuring your outdoor experience remains undisturbed.
Unlike the standard polycarbonate canopies that may feel cumbersome, patio awnings add an element of grace and sophistication to the overall architectural concept of the house. The graceful drapery of the awnings exudes an aura of elegance, effortlessly blending with the natural surroundings.
Moreover, these versatile patio roofs can be adapted to suit your preferences. You can opt for full coverage, allowing the awning to embrace the entire terrace area, or choose a partial coverage option that accentuates specific zones while still preserving an open-air ambiance. And fear not, these awnings are engineered to be lightweight and easy to install, sparing the load-bearing walls of your beloved house from any unnecessary strain.
Perfect terrace canopy
From classic and traditional designs to modern and contemporary styles, our team is well-versed in producing high-quality awnings that cater to a diverse range of architectural shapes and surface types. Terrace canopy options abound, and we are dedicated to bringing your terrace fabrication design dreams to life.
So, whether you wish to bask in the warm sunlight or seek shelter from the occasional raindrops, our bespoke patio awnings provide the perfect solution, adding both beauty and functionality to your house's outdoor oasis. Embrace the charm and allure of a thoughtfully designed terrace, and let LUXTENT transform your outdoor living experience into a harmonious symphony of style and comfort.
LUXTENT terrace awnings will be a practical addition to your home. The structure can be used as a porch or pergola, providing a cozy place to relax and receive guests. You can find more information on the project variants in our portfolio.
Popular models of patio awnings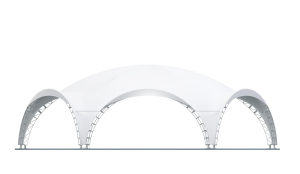 The ArcoTenso arch tent is the basic model of LUXTENT tent structures, renowned for its exceptional versatility and durability. This ingeniously crafted tent design not only provides reliable shelter and protection but also offers an array of functional possibilities, making it the perfect choice as an awning for a home terrace.
With its gracefully arched roofing, the ArcoTenso terrace canopy creates a captivating and welcoming outdoor space. The elegantly curved structure not only adds a touch of architectural elegance to your home but also allows you to organize a cozy seating corner, where you can unwind and enjoy the serene surroundings. Terrace canopy from the Membrane range offer a world of possibilities when it comes to creating a cozy and inviting patio for your home. These innovative structures are designed with the utmost flexibility, allowing you to customize your terrace canopy to suit almost any surface and shape.
Whether your patio is small and compact or sprawling and expansive, the Membrane canopy effortlessly adapts to its dimensions, ensuring a seamless integration with your outdoor space. Its unique design not only adds a touch of modern sophistication but also provides essential protection from the elements.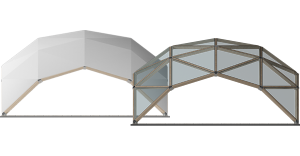 The EcoChalet wooden tent can be seamlessly attached to the wall of your house, providing enhanced stability and reliability in all weather conditions. Whether it's a sunny day or a rainy evening, you can rest assured that your terrace will remain a comfortable and sheltered retreat.
Crafted with premium-quality wood and attention to detail, the EcoChalet model exudes a natural and rustic appeal, creating a warm and inviting atmosphere on your terrace. Embrace the beauty of eco-friendly design and immerse yourself in the tranquility of nature, right in the comfort of your own home.
Order a project of awnings for terraces
Add-ons for backyard terraces
The awning structure of your choice can be easily glazed. We offer various options and types of glazing: frameless glazing, double or single glazing, sliding or swinging doors.
We offer branding services of awning structures. Printing on different parts of the marquee and large-format banner printing draw attention to the name of your company or create unique photo zones at your event.
LUXTENT offers decoration services, which according to your wishes may include the following: dome and wall decoration with designer fabrics, inside and outside decoration of a marquee with live and artificial plants.
We have taken parts in hundreds of events and celebrations. Take a look at our portfolio and review the range of tents to select a perfect, safe and reliable solution for your important event or your business.

Years of experience in cooperation with various restaurant business companies allow us to find the best solutions for the most unusual and exclusive orders. Therefore, we will find the best option for you or design an individual tent conforming to your requirements.

Our tents are multi-purpose; they are made to blend with the landscape, fit into any architectural forms and at the same time perform important functions.

We try to make our awnings not just functional, but also comfortable. Therefore, we offer unique solutions for creation of comfortable and convenient spaces for sports activities.

Our tents are characterized by durability and versatility as well as quality design. It makes them more than just functional premises and will help complement the site with a beautiful architectural solution.

We pay great attention to wishes and features of orders from our customers and, therefore, are glad to solve even the most complex tasks, providing any production enterprises with the necessary and functional awnings.