Corporate event tents
LUXTENT
Tents for corporate party in Dubai
In order for the company's employees to have a great time in nature, it is not necessary to go far outside the city. You just need to find a clean and spacious place near the city center, choose delicious and delicious dishes, think over the holiday program and set up a tent for a corporate event.
Comfortable corporate event tent
Holding a corporate event in a tent will be many times better than in a stuffy restaurant. This is the best solution that will appeal to your entire team. In the tent, you can not only enjoy outdoor recreation, but also spend time with colleagues in an informal setting or play on the sports ground.
Sale of tents for corporate parties
We offer large tents for corporate events. Our corporate tents in Abu Dhabi can be used for corporate events of any size. Under our sheds, more than 1000 people can be accommodated at the same time.
Tent tents for corporate events in the UAE can be combined, docked and cover an area of ​​more than 1500 m2, which will provide the ability to create separate areas: kitchen, bar, restaurant, lounge-zone, dance-zone.
You can buy a tent for a corporate party, which will allow you to organize outdoor recreation or in a non-standard place (on the roof of a building). This design can be installed almost anywhere.
Thanks to an impeccable reputation and a wide range of models, LUXTENT customers return to us again and again. We will make your corporate event bright and memorable. Tents and awnings at corporate events can not only provide convenience and comfort, but also create a unique atmosphere for your guests. The two most popular options for corporate tents are the arched tent and the timber-framed awning.
Delivery of corporate event tents in the Middle East
LUXTENT offers corporate event tents with delivery throughout the entire Middle East, including cities such as Abu Dhabi, Dubai, Ajman, Umm Al Quwain, and Fujairah. We provide high-quality tents suitable for various types of corporate events, from presentations to gala dinners. Our professional team takes care of the delivery and installation of the tents, ensuring a hassle-free experience for you. Our goal is to provide you and your guests with a comfortable and stylish space where you can host an unforgettable corporate event.
Corporate events are elevated to a new level with LUXTENT's tent. Our portfolio speaks for itself, showcasing the excellence of our venues. Discover the perfect venue for your next corporate event.
Popular tent models for corporate events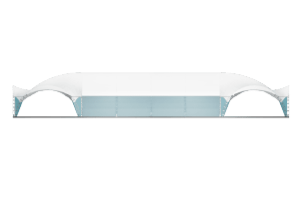 When it comes to creating a lasting impression on your guests at a corporate event, the arched corporate event tent is a stunning and captivating choice. Its sleek and elegant arched shape adds a touch of sophistication to any occasion, while providing ample space to accommodate a large number of attendees.
One of the most sought-after arched structures for corporate parties is the Grand model. Whether used as a single tent or as part of a larger structure, the ArcoTenso Grand model is perfect for any type of corporate event, boasting a maximum area of up to 1500 m2.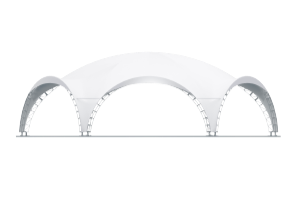 The Hexagonal model is not only perfectly suited for corporate events accommodating 200-250 guests, but it also exudes an air of elegance and sophistication. Its unique domed structure, supported by 6 bases, offers a generous total area of up to 360 m2, providing ample space for a memorable and comfortable gathering.
To truly elevate the atmosphere of your event, the arched tent can be transformed into a captivating visual spectacle. Immerse your guests in a world of enchantment by incorporating vibrant LED lights, captivating flower arrangements, tasteful textiles, and other exquisite decorative elements. Let your creativity run wild, as there are limitless possibilities to customize the tent and create a captivating ambiance that aligns perfectly with the theme and nature of your corporate gathering.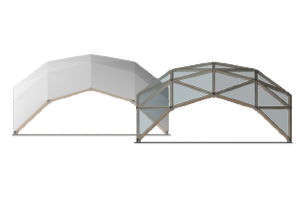 For organizing an eco-style corporate party, the EcoChale tent is an excellent choice. This canopy model is constructed using glued laminated timber, adding a rustic touch that blends perfectly with natural surroundings.
The wooden frame awning creates an open-air space that allows guests to fully immerse themselves in the beauty of nature and the environment, enhancing the overall experience of the event.
Add-ons for corporate tents
The addition of glazing enables the creation of a comfortable and sheltered environment, ensuring that guests can fully enjoy the corporate event regardless of the prevailing weather conditions.
By incorporating branding elements such as logos, colors, and other distinctive features, you can make your company stand out and effortlessly capture the attention of guests during corporate events. This strategic branding approach creates a memorable and impactful impression, reinforcing your company's identity and messaging in a visually appealing manner.
Decorating the corporate event tents offers the opportunity to set the desired atmosphere and mood that aligns with the event's purpose and theme. With a wide range of customizable elements, you can create a truly unique and unforgettable ambiance tailored to the specific needs of your corporate event.
We have taken parts in hundreds of events and celebrations. Take a look at our portfolio and review the range of tents to select a perfect, safe and reliable solution for your important event or your business.

Years of experience in cooperation with various restaurant business companies allow us to find the best solutions for the most unusual and exclusive orders. Therefore, we will find the best option for you or design an individual tent conforming to your requirements.

Our tents are multi-purpose; they are made to blend with the landscape, fit into any architectural forms and at the same time perform important functions.

We try to make our awnings not just functional, but also comfortable. Therefore, we offer unique solutions for creation of comfortable and convenient spaces for sports activities.

Our tents are characterized by durability and versatility as well as quality design. It makes them more than just functional premises and will help complement the site with a beautiful architectural solution.

We pay great attention to wishes and features of orders from our customers and, therefore, are glad to solve even the most complex tasks, providing any production enterprises with the necessary and functional awnings.