Exhibition tents for sale
LUXTENT
Exhibition tent supplier in Dubai
Participation in exhibitions and presentations is the most popular and affordable opportunity to showcase your products. Selling an exhibition tent in Dubai will be several times cheaper than a separate exhibition space of the same size.
Exhibitions marquees for sale
The main advantage of exhibition tents is that they do not depend on the layout of the exhibition pavilion or the place where the exhibition takes place. A variety of designs allows you to choose and install an exhibition tent of any size and shape, with the required number of zones for presentations.
Exhibition tent for hire in Dubai
Using a tent for an exhibition in Dubai provides for the presentation of products in the open air. We recommend that you take care of the comfort of visitors inside the exhibition tents in advance.
The main objective of any exhibition is to attract the attention of visitors to your stand. The domed tent for the exhibition and presentation of products will allow you to stand out from the background of the surrounding stands. So that your exhibition tent does not remain nameless, we recommend branding it – applying a logo, slogan, company name, decorating the tent in the desired color scheme.
Use of arched tent for exhibition will be useful not only for its participants, but also for the organizers. Large exhibition tents will allow organizing additional thematic zones. They can be used for long exposures or as an information center.
Tents and awning structures in Dubai can be an excellent solution for outdoor exhibitions and presentations, providing protection from the weather and creating a cozy and comfortable atmosphere for visitors. Regardless of the type of marquee or awning structure chosen, the use of such structures for exhibitions and outdoor presentations can significantly improve the experience of visitors and participants of the event. They create a cozy and comfortable atmosphere, protect from the weather and can be decorated and branded in accordance with the theme of the event.
Using LUXTENT exhibition tents in Dubai are the key to a successful presentation of the company's products. The tent will be ready to have the attention focused on your exhibition stand!
Popular Exhibition Tent Models
Arched tents of the Trend model are perfect for creating compact stands at exhibitions and presentations. They are easy to install and take up little space, which allows them to be used even in limited areas. The design can be branded and decorated in accordance with the theme of the exhibition, which will attract the attention of visitors and enhance the company's image.
They can be equipped with tables, chairs, lighting and sound equipment to create a comfortable space for visitors and event participants. Medium arched tents can also be branded and decorated according to the theme of the exhibition event.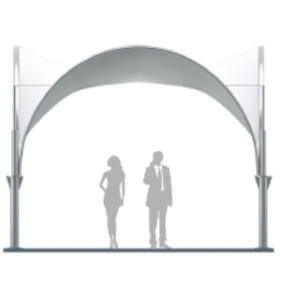 ArcoTenso Prima model are perfect tent for outdoor exhibition. It accommodated exhibition spaces up to 25 m2. For comparison, the maximum size of a passenger car is 4.5×2 m, that is, it is quite possible to install 1-2 exhibition copies on such a site.
Small exhibition tents could be compared to stalls with one big difference. An exhibition tent is primarily a way to attract the attention of visitors and tell about your products.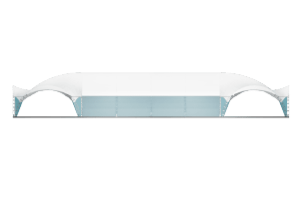 If it is necessary to organize a demonstration of large exhibits, for example, new models of construction or agricultural equipment, then a correspondingly larger tent structure will be required. We offer ArcoTenso Grand tents – this is a large pavilion designed for hundreds of guests.
Large arched tents can be used to create large exhibition areas and outdoor event areas. Such a pavilion can be used for long-term exhibitions or to replace a stationary exhibition hall.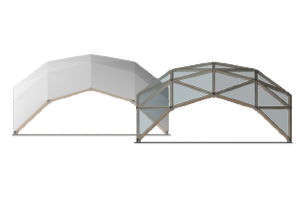 To draw maximum attention to its exhibition point, LUXTENT has developed the EcoChalet timber-framed structure. The exhibition pavilion on a frame made of laminated veneer lumber will look great at any presentation.
Wooden frame tents can also be used to create exhibition pavilions and recreation areas at events. They have an attractive appearance and create a cozy atmosphere for visitors.
Add-ons for exhibition tent
Tent glazing is a great way to protect exhibitors from weather conditions such as sand and wind. It also creates a comfortable atmosphere inside the tent, where events and presentations can be held without worrying about the weather.
Tent branding allows companies to enhance their image and promote their brand. The tents can be decorated in the colors of the company and decorated with logos and slogans, which helps to draw attention to the brand and recognition of the company.
Decorating tents allows you to create a special atmosphere that matches the theme of the event. Flowers, greenery, light decorations and other decorative elements help to create a cozy and unique atmosphere inside the tent, which can draw even more attention to the event.
We have taken parts in hundreds of events and celebrations. Take a look at our portfolio and review the range of tents to select a perfect, safe and reliable solution for your important event or your business.

Years of experience in cooperation with various restaurant business companies allow us to find the best solutions for the most unusual and exclusive orders. Therefore, we will find the best option for you or design an individual tent conforming to your requirements.

Our tents are multi-purpose; they are made to blend with the landscape, fit into any architectural forms and at the same time perform important functions.

We try to make our awnings not just functional, but also comfortable. Therefore, we offer unique solutions for creation of comfortable and convenient spaces for sports activities.

Our tents are characterized by durability and versatility as well as quality design. It makes them more than just functional premises and will help complement the site with a beautiful architectural solution.

We pay great attention to wishes and features of orders from our customers and, therefore, are glad to solve even the most complex tasks, providing any production enterprises with the necessary and functional awnings.