Banquet hall tents
LUXTENT
Advantages of tents for banquet halls
Implementation of banquet halls in Dubai – this is an important direction in the activities of the LUXTENT company. By using tent structures, a significant reduction in project costs, as opposed to capital construction, is achieved, and there are also more options for decorating the banquet hall.
Banquet halls in tents
When it comes to hosting a memorable event, banquet tents offer several advantages that enhance the overall design and atmosphere:
Perfect Symmetry: The round shape of the tent provides an ideal layout for creating a symmetrical dance floor, ensuring a captivating and balanced focal point for your guests.
Colorful Ambiance: Using a banquet tent adds a vibrant touch to your event, as you have the freedom to introduce decorative enhancements such as lighting, drapery, and thematic elements that reflect your unique style and vision.
Distinctive Exteriors: The outer part of the tent structure itself stands out, attracting more attention to the banquet hall and setting it apart from traditional indoor venues. This creates a sense of novelty and excitement for your guests.
Customizable Branding: With the option to brand the construction, you can personalize the design and transform the tent into a fully customized space that aligns with your event's theme or your brand identity. This flexibility allows you to adapt the venue based on your specific needs and preferences.
Banquet halls tent in Dubai
Banquet halls in Dubai offer exceptional design features that enhance the overall atmosphere and functionality:
Convenient Equipment Mounting: The tent's design allows for easy installation of lighting and sound equipment, ensuring optimal positioning and enhancing the overall audio-visual experience for your event.
Reflective Canopy Installation: By incorporating reflective canopies, the boundaries of lighting and projection design can be extended, creating a visually stunning and immersive environment that captivates your guests.
Investing in a banquet tent in Dubai proves highly advantageous, as these structures offer significant benefits over traditional complex buildings. Their lightweight construction allows for installation without the need for a foundation or even on the roof of an existing building. The modular design further enhances flexibility, enabling easy modifications to the size and shape of the structure to suit your evolving needs. By selecting a banquet hall in Dubai, you unlock endless creative possibilities and the freedom to customize the space, ensuring an unforgettable and captivating event experience for all guests.
Banquet tents are also perfect as seasonal restaurants. Depending on the needs, the facilities can accommodate up to several hundred guests. By organizing banquet halls in LUXTENT tents, beautiful photos are guaranteed. To prove it, we present below our portfolio of works.
Popular models of banquet tents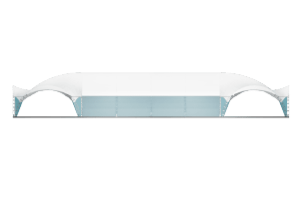 The ArcoTenso Grand structure is the perfect choice for constructing expansive banquet halls in Dubai, capable of accommodating hundreds of guests under a single roof. Its versatile design allows for seamless integration with other structures, enabling the creation of a spacious and roofed banquet hall with virtually unlimited space. With the ArcoTenso Grand, you can create a magnificent banquet hall that impresses and accommodates all attendees in style.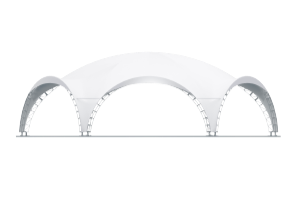 With the ArcoTenso tent, you can effortlessly create a versatile and stylish outdoor banquet hall. The elegant frame and modern design of this tent harmonize beautifully with any natural or built environment, adding a touch of sophistication to your event. Enjoy the flexibility to customize the space according to your needs, and provide your guests with a memorable experience in an enchanting setting. Whether for a wedding reception, corporate gala, or celebratory gathering, the ArcoTenso tent offers the perfect backdrop for an unforgettable banquet hall experience.
Introducing the remarkable GeoTenso spherical tent structure, crafted from premium galvanized steel, that will truly stand out in any setting. With its transparent awning fabric, this unique design creates an awe-inspiring effect, offering panoramic views that leave a lasting impression on all attendees. Whether for a banquet, event, or any special occasion, the GeoTenso banquet event hall guarantees an extraordinary experience with its captivating and panoramic vistas.
Order a banquet hall project
Add-ons for banquet party tent
Enhance your banquet hall tent with our seamless glazing options. Choose from frameless glazing, double or single glazing, and sliding or swinging doors to create a beautifully glazed space. Our high-quality materials provide insulation and ample natural light. Transform your banquet hall with our customizable glazing options for a stunning atmosphere that blends indoor and outdoor elements.
Maximize your brand exposure with our branding services for banquet halls. We offer custom printing on the awning structure and large-format banners to showcase your company name and create unique photo opportunities at your event. Stand out from the crowd and leave a lasting impression with our professional branding solutions.
Transform your banquet hall with our decoration services at LUXTENT. Our offerings include dome and wall decoration with designer fabrics, as well as inside and outside decoration of the marquee with live and artificial plants. Create a personalized and enchanting atmosphere that reflects your unique style and theme. Let us elevate your banquet hall and make it an unforgettable experience for you and your guests.
We have taken parts in hundreds of events and celebrations. Take a look at our portfolio and review the range of tents to select a perfect, safe and reliable solution for your important event or your business.

Years of experience in cooperation with various restaurant business companies allow us to find the best solutions for the most unusual and exclusive orders. Therefore, we will find the best option for you or design an individual tent conforming to your requirements.

Our tents are multi-purpose; they are made to blend with the landscape, fit into any architectural forms and at the same time perform important functions.

We try to make our awnings not just functional, but also comfortable. Therefore, we offer unique solutions for creation of comfortable and convenient spaces for sports activities.

Our tents are characterized by durability and versatility as well as quality design. It makes them more than just functional premises and will help complement the site with a beautiful architectural solution.

We pay great attention to wishes and features of orders from our customers and, therefore, are glad to solve even the most complex tasks, providing any production enterprises with the necessary and functional awnings.